Oil Theft Could Cost Nigeria N1.37 Trillion As PENGASSAN Threatens A Month-Long Shutdown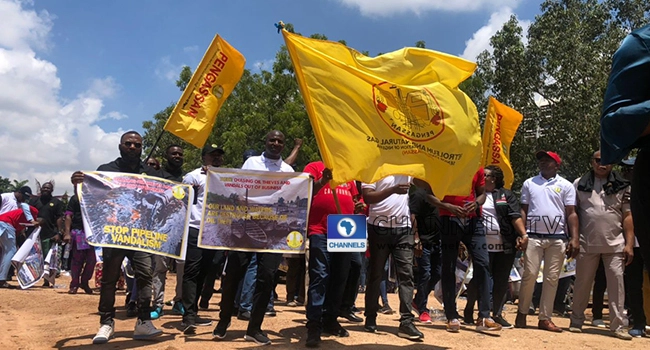 Ibekimi Oriamaja Reports
The Federal Government has been encouraged to find answers to the widespread oil theft in the Niger Delta region as soon as possible.
According to Track News, the PENGASSAN (Petroleum and Natural Gas Senior Staff Association of Nigeria) members issued the warning on September 9, 2022.
Members of the union have been spotted in some areas of the nation, including Abuja, Warri in Delta State, Kaduna, and Port Harcourt in Rivers State, protesting the ongoing oil theft. They claim that if the government does not take action, Nigerian oil production could be shut down within the next 30 days.
According to Tracknews , Nigeria might lose roughly 30.03 million barrels of petroleum, or about N1.37 trillion, if an attempt is made to halt oil output for 30 days.
At a demonstration conducted earlier at the Delta State Governor's Office Annexe in Warri, the PENGASSAN Zonal Chairman, Prince Audu Osihiokhamele, announced the union's plan and claimed that some prominent government figures are engaged in the business of stealing crude oil in the nation.
They claim to load vessels, but we haven't seen any, he added. Is it a syringe? Osihiokhamele emphasized that PENGASSAN would be forced to take more extreme measures if the government failed to move quickly to find long-lasting solutions to the threat.
In order to solve the riddles behind the thefts, Osihiokhamele declared that the nation will be shut down for 30 days.
"Should the government not heed this warning," he continued, "PENGASSAN will resort to shutting down production for 30 days by withdrawing members, both onshore and offshore, wherever they are producing crude."
According to information obtained by Track News, union members showed up at the Delta State Governor's Office Annexe in Warri on Thursday morning to express their disgust with the theft's persistence.
The union members demanded that the government stop the unpleasant trend, which they claimed had nearly destroyed the country's economy, while holding up placards with various inscriptions.
They bemoaned the fact that Shell and Mobil were forced to move and divest due to intolerable crude oil theft and pipeline damage.