Okonjo-Iweala and Peter Obi meet at the WTO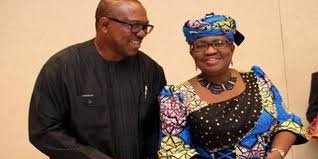 Ibekimi Oriamaja Reports
Yesterday, Mr. Peter Obi, the Labour Party's presidential candidate, met with Dr. Ngozi Okonjo-Iweala, the WTO's director general.
This was revealed by the head of the WTO via her verified Twitter account.
She wrote: "Discussing Nigeria's economic resurgence and the role of trade at the @WTO with Governor @PeterObi."
The Labour Party presidential candidate is currently traveling abroad to meet with his supporters in Canada, Germany, London, Rome, the United States, and Switzerland. It is anticipated that he will use crowdfunding to raise a significant portion of the money required for the election.
Professor Pat Utomi, the founder of the Centre for Values in Leadership and a prominent member of the Labour Party (LP), recently disclosed that the crowdfunding websites that Nigerians living abroad planned to build for Obi will be exposed the following week.
Exclusively, Track News revealed that Nigerians in the diaspora had organized into groups to start crowdfunding campaigns for Obi in an effort to increase his chances of winning the 2023 presidential election. According to Track News, they intended to launch crowdfunding portals with a goal of raising $150 million from Obi's supporters abroad and N100 billion from those in Nigeria.
Senior attorneys, however, have voiced varying opinions regarding the legitimacy of the electoral financing system.
Despite the current level of insecurity in the nation and the dire situation of the economy, Obi had asked Nigerians in the diaspora in a series of Tweets during one of the sessions to continue to contribute their fair share to nation-building.
If elected, he promised that his administration would have no tolerance for corruption and reduce the cost of running the country.
He claimed that the only realistic approach to attain restricted to zero corruption was "our absolute commitment to transparency and accountability in government business.
"Our foreign policy will continue to be centered on Africa. Through measures related to commerce, investment, and peacekeeping, we will expand Nigeria's diplomatic sphere of influence. To support national development, we shall vigorously pursue strategies for increasing national Internet penetration as well as the ICT sector's contribution to overall economic growth.
"Through public-private partnerships, we want to place a specific emphasis on key infrastructure, particularly power, to assure a measurable increase of 200 percent above current generation, transmission, and distribution in the shortest amount of time.
"Through an aggressive increase in people and equipment as well as inclusive training of agents in our security agencies, we will pursue intangible assets such as good governance, the rule of law, and the security of lives and possessions.
"We will place a strong focus on patriotism, national interest, morale, the caliber of the administration, political will, and character, all of which complement the other assets. We'll make sure to put these resources in place and emphasize asset optimization.
We must give significant consideration to leadership that is endowed with expertise, capacity, credibility, and dedication as we plan through 2023 and beyond. Nigeria must be turned around, and that requires the 4 Cs. Similar to respect, patriotism cannot be forced; it must be acquired by commitment, responsiveness, active participation, orientation, and prioritization of Nigerians living abroad. The country's economy will benefit from the swift and favorable ripple effect.