PDP leaders and the king praise Ayade over the Ogoja rice mill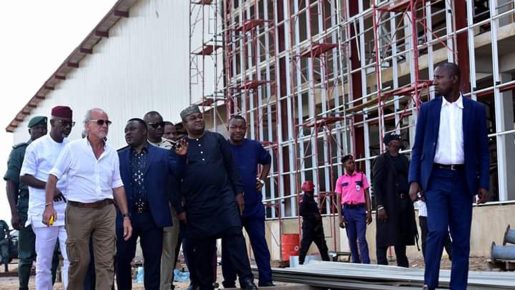 Ibekimi Oriamaja Reports
Governor Ben Ayade has received praise from prominent Cross River North residents for completing and starting production on the Ogoja Vitaminised Rice Mill.
A Peoples Democratic Party (PDP) chieftain named Dornklaimz Enamhe spoke quickly after seeing the production process and praised Ayade for the accomplishment.
"The governor is in the All Progressives Congress (APC), and I am in the PDP," Enamhe stated. The purpose of this is not political; I am the Director General of Senator Jarigbe Agom's Campaign Organization. I must congratulate him because this is about efforts, hard work, and the people. No need to go into party talk here. Let's be honest, what I witnessed was astounding and incredibly stunning.
The mill will offer employment chances for the populace, according to Chief Ikani Wogar, another PDP member from the state.
"Sons and daughters of Ogoja will have work as a result of this investment. We are quite grateful to His Excellency for industrializing Ogoja, particularly with this rice mill.
Ntol Mbeje Amar III, the King of Ishiborr, who also saw rice being produced at the mill, praised the governor for his accomplishment.
The monarch stated that the mill would be extremely helpful to the people and that it will be used to mill all future rice harvests in Ogoja. We sincerely thank the governor. We have eaten and seen the rice, and it is incredibly clean. We are familiar with how each machine operates.