Peter Obi's predictions will save Nigeria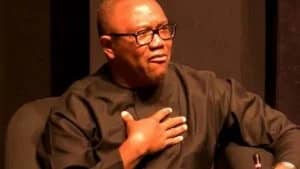 Ibekimi Oriamaja Reports
Peter Obi, the presidential candidate for the Labour Party, believes that for Nigeria to turn things around, it needs creative leadership.
Obi said this while addressing a crowd in Charlotte, North Carolina, in the United States.
A group of Nigerians planned the event in advance of the 2019 general elections.
He argued that Nigeria needs an innovator as its president.
"All it will take is one disruptive thinker with a broad picture view to put Nigeria back on the right track. He said, "I am convinced that with the support of the diaspora, we can succeed for Nigeria."
He continued by saying that there was yet a chance to defeat insecurity.
Despite the bleak outlook, particularly in light of the current state of the economy and the level of insecurity, he said, "I am certain that Nigeria can recover with your passionate prayers and donations in both human and material dimensions.
Obi asserted that restructuring would be approved by Nigerians as part of a revision of the Constitution.
"The Nigerian people's desire for a more comprehensive reform would include a revision of the Constitution. It will entail legislative, executive, and judicial actions. He stated that the Nigerian people would finally decide.