Student Drags Buhari to Court: 3 Daring Young Nigerian Students Who Have Sued Buhari and Others
Ibekimi Oriamaja Reports
Basically, it is one's nstitutional right as a Nigerian to be able to sueanother person provided that the person is not a minor
Some bold Nigerian students have dragged President Buhari, the governors, JAMB and universities
A 19-year-old Nigerian boy who took JAMB to court however landed in the police net over manipulation and forgery
While many persons may never approach a law court in their lifetime, some young Nigerian students have dared to tread where angels failed to do so.
Inasmuch as there is no prize for suing anyone and that the case may go in any direction, there is no harm in exercising one's constitutional rights.
Benue State University, Soohemba Agatha Aker, Iniobong Ekpo Isang, Akwa Ibom University, John Chinedu, JAMB, ASUU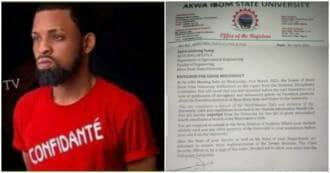 In this article, we revisit stories of Nigerian students who have sued people and institutions many wouldn't dream of.
1. Final year student sues President Buhari and the 36 state governors to court
A final year student of Benue State University identified as Soohemba Agatha Aker has dragged President Buhari and the 36 state governors to court over alleged poor handling of the ASUU strike by the federal government.
In her suit filed through a SAN, she prayed the court to stop the payment of Buhari and the state governors' salaries and allowances till the strike is totally resolved.
Benue State University identified, Soohemba Agatha Aker, ASUU strike
She also sought the court to make a similar order for all political office holders in the country.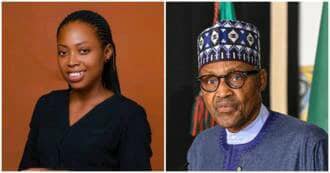 According to her, the lingering strike is affecting her as well as all other students in public universities across the country.
It remains to be seen how the suit will pan out.
2. Final year student takes university to court after he was expelled
A Nigerian student identified as Iniobong Ekpo Isang took Akwa Ibom University to court after he was expelled over a social media post he made against the governor of the state, Udom Emmanuel.
TrackNews Nigeria reported that Isang who was a finalist in the department of agricultural engineering had accused the governor in an article on Facebook of failing to fulfill his financial promise to graduating students in 2017.