Why Wike, Makinde Are Silent About the Campaign Council, According to a PDP Chieftain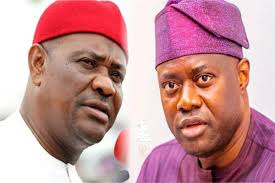 Ibekimi Oriamaja Reports
According to a Peoples Democratic Party (PDP) source, the council members Seyi Makinde of Oyo State and Governors Nyesom Wike of Rivers State's silence indicates their assent.
According to Track News, the governor of Oyo State was selected last Thursday to the position of Vice Chairman South of the PDP Presidential Campaign Council (PCC). While Wike and a few other governors were chosen to be PCC members.
According to a PDP source, the pair may have agreed to take the position.
According to the source, since they are silent, they must have agreed. From the moment their names were mentioned, if they had any reservations, they would have rejected it.
Recall that the PDP and Atiku Abubakar, the party's presidential candidate, named Aminu Tambuwal as the Director General of the National Campaign Management Committee (NCMC).
Former Cross Rivers State governor Liyel Imoke was named by the PDP as the deputy director of general operations, and professor Adewale Oladipu was named the deputy director of administration.
The NCMC's deputy directors for technical and systems were appointed by the party as Raymond Dokpesi and for research and strategy as Ekwesilieze Nwodo, respectively.
Umaru Bature, the party's national organizing secretary, informed newsmen of the situation in a statement.