Banks vandalised as Protesters take to streets in Ibadan protesting naira scarcity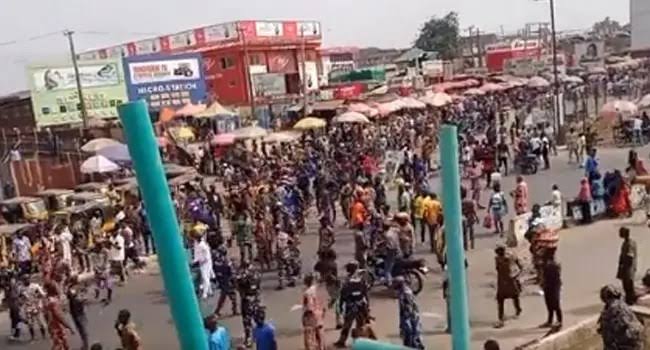 A Wema Bank branch in Ibadan, Oyo State, was vandalised by irate mob protesting naira scarcity, on Friday.
The protesters barricaded major roads across the state capital and chanted anti-government songs.
Affected routes include; Iwo road, Gate and other routes in Ibadan North East local government area
Some of the angry youths were heard shouting out of frustration in Yoruba language: "lori owo wa" which translates despite being our money.
Many civil servants inside the government secretariat panicked as many were seen hanging around different spots in case of unforeseen eventuality.
In a viral video, the youths are seen throwing stones, woods at the building of the bank.
A tweep wrote," This is wema bank in Ibadan and it's currently being vandal!zed by angry citizens who can't get their own money from the bank… it seems the government derives pleasure from the pa!n and suffer!ng of the citizens."
In October last year, governor of the Central Bank of Nigeria (CBN), Godwin Emefiele, announced the plan to redesign the N200, N500, and N1,000 notes, and asked Nigerians to deposit their old notes before January 31, 2023 when they would cease to be legal tender.
Although the deadline has been shifted to February 10, many Nigerians have found it difficult to obtain the new naira notes.
Meanwhile, the Governor of Oyo State, Seyi Makinde, on Friday announced the suspension of his campaign activities over the unending fuel and new naira-note crisis across the country.
Makinde said this during the unveiling of the Omi-Adio-Ido Road.
He said the suspension was in solidarity with the people over the anti-people economy policies of the All Progressives Congress-led Federal Government.
This was confirmed in a statement signed by the state Commissioner for Information, Culture and Tourism, Dr. Wasiu Olatubosun.
In the statement, Makinde, who was in Ido to continue his campaign, directed that all campaign activities be suspended until further notice.
Olatubosun disclosed that Makinde, who unveiled the Omi Adio-Ido Road in an emotion-laden voice, directed leaders of the party in the state to suspend campaigns, noting that the suffering of his people was much and that he was elected to protect their interests and well-being
"As a mark of honour to citizens and residents of Oyo State, the Executive Governor of Oyo State, Seyi Makinde, has direct that all campaign activities of the party at all levels be suspended until further notice", the statement read.