FeaturedNaira Redesign: You Will Suffer If You Don't Stop Self-imposed Wickedness On Nigerians, Fr Mbaka Warns Buhari, CBN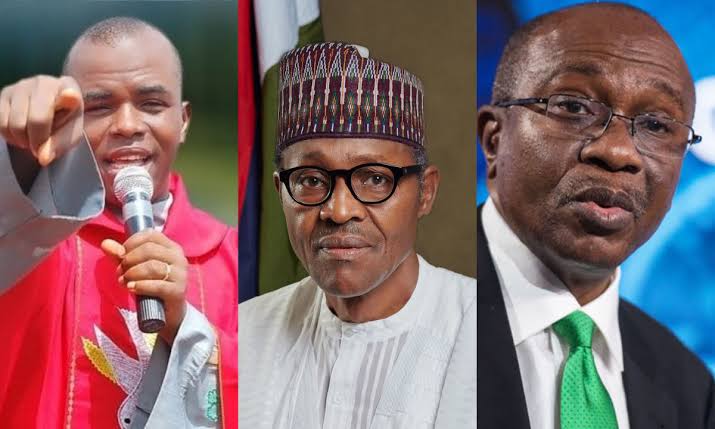 Charismatic Catholic Priest, Rev. Fr. Ejike Mbaka has reacted to the current cash shortage and low distribution of the newly redesigned Naira notes in the country, warning President Muhammadu Buhari and the Central Bank Of Nigeria (CBN), to rectify it or else they will face the wrath of God.
The cleric disclosed this while addressing his congregation, expressing that he is giving both the President and the CBN Governor, Godwin Emefiele a mandate from heaven to stop the self-imposed wicked suffering on the people, or they will suffer.
Mbaka said, "People will suffer to make money and still suffer to take their money and there is still a country; tomorrow you will say Fr. Mbaka said; why do you force me to say something? I am giving both the President and the CBN governor a mandate from heaven, if they don't want to react immediately and stop this self-imposed wicked suffering on the people, they will suffer.
"What a rubbish; why do you multiply misery; people are sleeping in the bank to get their money; in which country has it ever happened? People are now selling money; not dollars; it is easier now to get dollars than to get naira; parents cannot have money to buy foodstuff for their children; I don't know how many will be alive by the time the so-called new currency will come out. The new currency is not even good, the design very poor, the colour separation rubbish.
"And everybody is talking election, election. Will dead men do the election? Men of God you better open your mouths; I have come back from monastery to see my people in suffering, in agony; it is time to tell Pharoah, 'let my people go'."