Alaibe, over 6200 supporters dump APC for PDP
A chieftain of the All Progressives Congress (APC) and former Managing Director of the Niger Delta Development Commission, (NDDC), Chief Timi Alaibe on Friday defected to the Peoples Democratic Party (PDP), with over 6,200 supporters.
Other APC chieftains who decamped alongside the former NDDC boss are former Secretary to Bayelsa State Government, Hon Gideon Ekeowei, one time Commissioner for Youths and Sports, Chief Keme Prefa, ex-Chairman of Sagbama Local Government Council, Hon Barnabas Edure, former Executive Secretary, SUBEB, Barr. Rhodesia Whyte and former state lawmakers including Hon Nelson Belief.
Receiving Chief Alaibe in Government House Yenagoa, Bayelsa State Governor, Hon Seriake Dickson noted that the defection of the former NDDC and his teeming followers does not only give credence to the supremacy of PDP but also spells the end of the APC in the state.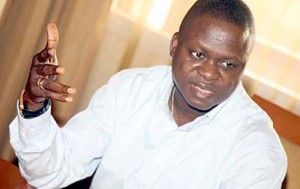 He further said the defection has justified his earlier claim that the APC cannot win any election in the state as its leadership has brazenly demonstrated lack of interest in the welfare and development of the state.
According to him, Bayelsa remains the only PDP state that has re-elected its governor, defeating federal might since 2015 when it became an opposition party in the country.
While reiterating the need for people of the state and Ijaw nation to embrace the PDP, Governor Dickson stressed that no well meaning and decent person would identify with the other party because of the high level of criminality and falsehood associated with it.
He said: "The APC in Bayelsa is a party of criminals, cultists and terrorists. PDP has the majority of the good and decent patriotic people. I used to say there are few APC members in Bayelsa that are good and patriotic. But now, imagine the few good ones have now left, so the APC in Bayelsa is completely a party of criminals, cultists and terrorists.