UI Leads Unilorin, UNN and Other Universities to Emerge as Winner of CEF National Essay Competition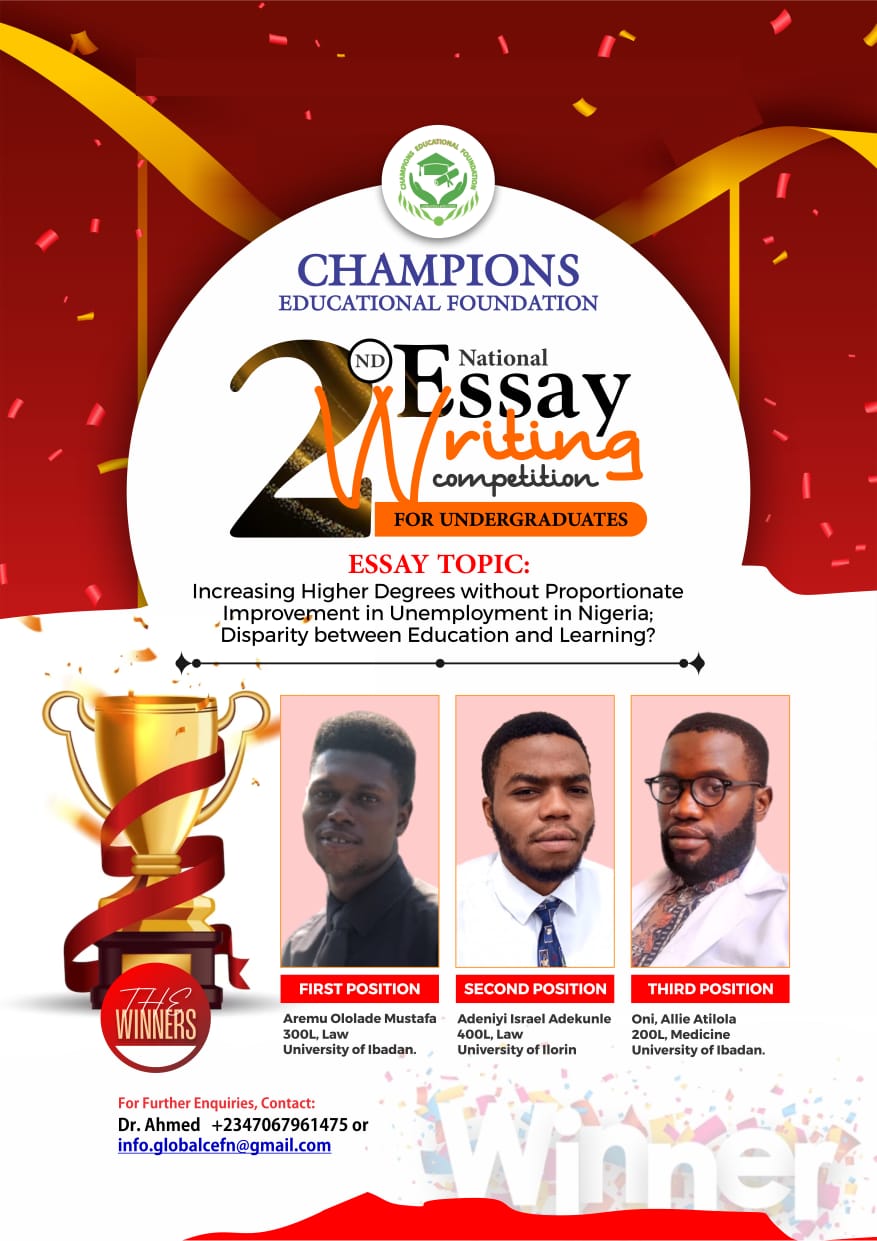 A law student from University of Ibadan led other universities in Nigeria to emerge as the overall winner of Champions Educational Foundation's annual national essay competition.
The annual national essay competition is the subset of activities of Champions Educational Foundation that is targeted at undergraduate students across the country in order to improve their literacy level, stimulate critical thinking and expose them to the art of doing academic research worth publishing on international journals.
The 2022 national essay competition which the call for entries was announced on the 1st of December and ended on 31st of December last year received total of Seventy-six entries from across the universities, polytechnics and amazingly secondary schools in Nigeria.
The Chief Organizer, Dr Abdulkareem O. Ahmed revealing the reason behind the topic of the 2022 essay competition, in his statement:
" Looking at the topic: Increasing Higher Degrees and Proportionate Improvement in Unemployment in Nigeria; Disparity Between Education and Learning? We are trying to make students to submit their contributions by analysing issues associated with increased number of graduates and higher degrees (Msc and PHD) without commensurable education which consequently bring about increased in unemployment rate in Nigeria.
"The issues like archaic curriculum that are not relevant to 21st century era, infrastructural deficits, incessant strike actions among many factors as identified by the participants. I must confess, I am really impressed with the way their contents were creatively written. They were absolutely rich. Amazingly, two secondary school students also submitted but unfortunately, they were disqualified due to the standard of the competition.
"However, it is in our aim to harness all the quality points highlighted by these writers in order to create policy document for decision makers. Specifically, reading through the profile of the top ten winners, it amazed me to see how much achievements they have acquired to their credits. I look forward to welcoming them to the Champions' Educational Foundation Family as fellows, so that we can see to how we can contribute to their education and professional careers. Largely, I appreciate the examiners, board members, excos and volunteers for their contributions in making this a successful one" he said.
He also call for donors and sponsors in order to grease and sustain this motivating initiative. According to Dr. Nafeesat who was one of the examiners commented that there was great improvement in the just concluded essay competition in term of quality and style of writing in comparison to the previous one. In her statement: " it seems people have improved in their quality of writing skill, style, referencing attention to details and plagiarism has also reduced considerably well" she commented.
Analysing the overall entries and performances, Barr. Muhammad T. Saheed revealed that out of the Seventy-six entries recieved within the window of four weeks the largest percentage were from federal universities, follow by polytechnics and two secondary schools that were disqualified. While the school that made the top twenty were: University of Ibadan, Unilorin, University of Nigeria, Osun State University, Bayero University Kano, University of Lagos, Nnamdi Azikiwe University, Awka, Federal University, Dutse and Kwara State Polytechnic.
Analysing the courses of study of the top twenty winners, he revealed that Law took the highest percentage, follow by Engineering, Medicine and Pharmacy. Subsequently, the top three winners were announced by Dr. Mubarak, one of the Board Members of the Foundation, with the winners named as follows: Aremu Ololade Mustafa, law student, University of Ibadan; Adeniyi Israel, law student, University of Ilorin; and Oni Allie Atilola, Medicine, University of Ibadan.
Dr. Mubarak therefore, encouraged all the participants to keep showing up regardless of their positions in the contest. In his statement: " winning or not, just keep writing and applying as much as you can, you do not know how much knowledge you have gathered indirectly. Writing essay competition is an interesting adventure, it offered you avenue of learning and growth" he said.
He however, congratulated the winners and assured them of deserved prizes of One Hundred and Fifty Thousands, One Hundred Thousands and Seventy-five thousands and other attached benefits of fellowship program and certificates.