Delta community threatens NDDC road project over compensation
BOMADI—ESANMA community in Bomadi Local Government Area of Delta State, has threatened to stop construction on the Bomadi-Gbaregolor-Esanma-Akugbene-Ezebiri Road project being undertaken by the Niger- Delta Development Commission, NDDC, following alleged nonpayment of compensation.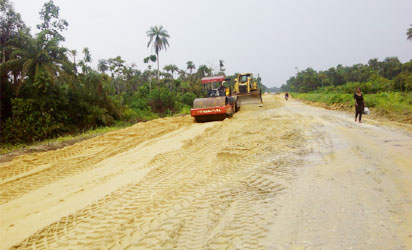 The community had, penultimate week, prevented the contractor, Setraco Nigeria Limited, which returned to the site lately after a long absence, but the Chairman of Bomadi Local Government Area, Mr. William Angadi, intervened, promising to look into the matter in two weeks.
It gave the construction giant a two-week notice to pay compensation or the people will stop further work on the project awarded to Setraco since 2009.
How trouble started – Community scribe
Secretary of the community, Mr Akpoebimone Omoro, told NDV that disagreement ensued when the NDDC hired valuer, Chrise Oghene Omoru and Co, bypassed the community in the payment process.
He said that two communities, Gbaregolor and Ekameta, had earlier been paid in the first batch in 2011, leaving neighbouring Esanma, Ogboin-ama and Akugbene communities in the second batch.
He explained that the community was infuriated when the NDDC agent bypassed them and went ahead to pay its neighbouring Ogboin-ama community, claiming that Esanma community had already been settled.
Bomadi LG chair brokers temporary peace
The community scribe, however, said with the intervention of the Bomadi council chairman, Hon. William Angadi, who pleaded with the community for two weeks' grace to resolve the grievances, the company was allowed to continue work, but not without conditions.
According to him, "This issue of compensation has lingered for too long. Just of recent, we were surprised to hear from the NDDC valuer that compensation had been paid to Esanma beneficiaries without giving any concrete evidence.
"We feel that the agent spitefully bypassed us and went ahead to pay compensation to our neighbouring community.
Our fathers, mothers, others still crying
"Beneficiaries in our community, including our old fathers and mothers, whose farmlands, fishponds, economic trees, buildings and crops were destroyed, are still lamenting.
"So, we decided to stop them from carrying out work until they do the needful. We believe that the agent is deliberate in his actions to cause chaos in the area.
"If he had indeed paid beneficiaries of this community as he claimed, let him come up with evidence of their receipts and signatures.
"But we are emphatically saying that nothing has been paid to any beneficiary here. If he had secret deal with any community member, that is left for him to answer.
We'll stop work again if…
"The community has resolved that at the expiration of the two -week notice, the conditions we have given must be met, as failure to comply will force us to stop work on site again.
Demands
"Our conditions are simple; the company should pay compensation to beneficiaries in our community, open the canal that it had blocked for seven years that has been causing yearly flooding in our community.
"Again, Setraco should recall the six security workers it had sacked at the wake of our action; construct a bridge across Ajor-oba natural canal rather than a culvert, an access road and a CSO of Esanma origin.
"The issue is that we are not ready to share vital security information with the company through a CSO from a neighbouring community," he said.
Visit www.tracknews.ng for latest news updates….