New Notes: Buhari Meets Tambuwal, Bagudu, Emefiele, Bawa, Cancels Meeting With NGF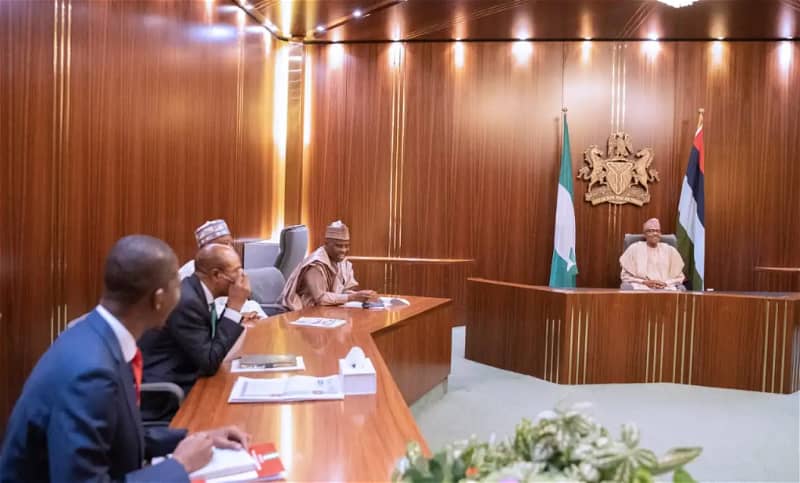 President Muhammadu Buhari on Tuesday met with the Chairman of the Nigeria Governors Forum (NGF) and Governor of Sokoto state, Aminu and the Chairman of Progressive Governors Forum (PGF) and Kebbi State Governor, Abubakar Bagudu at the State House, Abuja.
The meeting at the instance of the President was also attended by Governor of Central Bank of Nigeria (CBN), Godwin Emefiele and the Chairman of Economic and Financial Crimes Commission (EFCC), Abdukrasheed Bawa.
The meeting, which TrackNews Media learnt, was holding in the wake of the crisis associated with the currency swap, was also attended by the Secretary to the Government of the Federation, Boss Mustapha as well as the Chief of Staff to the President, Prof Ibrahim Gambari.
Although the details of the meeting with the president are not yet known, it may not be unconnected with the cash crunch as a result of the Naira redesign policy as the election draws closer.
Meanwhile, a scheduled meeting between President Muhammadu Buhari and Governors under the aegis of the Nigerian Governors Forum has been cancelled.
No reason was given for the cancellation of the meeting initially scheduled for Tuesday at the Council Chambers of the State House, Abuja.
The cancelled meeting with governors was coming four days after the president met with Governors of his party, the APC, during which he asked Nigerians to give him seven days to resolve the crisis associated with the Naira redesign policy.
There had been mixed reactions over the currency swap policy aimed at curbing money laundering, election corruption, spiking inflation rates and to tackle counterfeiting.