Okowa presents 2019 budget estimate of N367.09 to Delta Assembly
ASABA-DELTA State Governor, Dr Ifeanyi Okowa, Wednesday presented a budget estimates of N367, 095,083,451:00 billion for the service of Delta State for the 2019 fiscal year to the State House of Assembly.
Explaining the budget which he Christened 'Budget of Sustainable Growth', Okowa said N157 billion representing 42.79 percent and capital expenditure stands for recurrent expenditures and N209.9 billion representing 57.21 percent is for capital expenditures.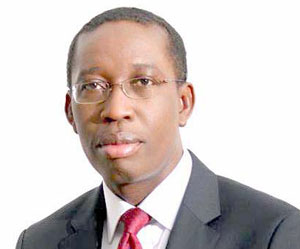 Saying road development and education are top on the priority list of the state government for the 2019 fiscal year, the Governor said N79.6 billion is earmarked for road infrastructure and N26.8 billion for education with an additional N2.5 billion for the purpose of meeting counterpart funding in the education sector in 2019.
According to him, other areas of priority under economy sector include job creation N1.1 billion; Agriculture, N2.9 billion; Sports development, N3.9 billion; water resources, N1.6 billion; and health, N8.6 billion.
On how to finance the budget, Okowa said a total of N73.4 billion (20%) is expected to be sourced as Internally Generated Revenue, IGR while N217.8 billion (59.36%) is expected to come in as statutory allocation including mineral revenue derivation.
He named other sources of funding the budget to include; Value Added Tax, VAT, N13 billion (3.56%) and other capital receipts, N62.7 billion representing (17.09%).
Giving a breakdown of the proposed recurrent expenditure, Okowa said N65.7 billion (41.8%) will be spent as personnel costs while overhead costs will gulp N55.2 billion (35.2%), adding that a total of N36.1 billion (23%) as consolidated revenue fund charges and social benefits.
Speaking on the performance of the 2018 budget of N308 billion, Okowa said from January to June this year, a total of N66.5 billion had been spent on recurrent items against the proportionate approved budget of N73.7 billion representing 90.04 percent performance.
Explaining that capital expenditure performance was 47.8%, he said the state government spent N38.6 billion as against the proportionate budget figure of N80.8 billion. He added that the 2018 fiscal year witnessed a significant improvement in the state's revenue receipts.
Okowa said; "we are poised to consolidate our successes and achievements and institutionalize the policies and practices that made them possible.
"Despite the fluctuating fortunes of the economy in the last three and half years, I humbly note that our state has continued to forge ahead.
"Workers are paid regularly, thousands of previously unemployed youths are gainfully employed, and many of our people now enjoy better facilities in terms of roads, water, education and health.
"Agriculture has received a strong boost with many cluster farms springing up in different parts of the state, and even more importantly, our people remain committed to peace and harmonious living.
"Going forward, we shall build on this stable growth to position Delta State as a dynamic economy for the future. Indeed, a stronger Delta beckons".