The "new task" before Tony Anenih @85
At 85, the Iyasele (Prime Minister) of Esanland, Chief Anthony Akhakon Anenih has fulfilled the famous quote of Voltaire, to wit: "God gave us the gift of life; it is up to us to give ourselves the gift of living well." Truly, Pa Anenih is an embodiment of the mercies of God and the gift of life. He has also been a beneficiary of good life, living well for himself and his community.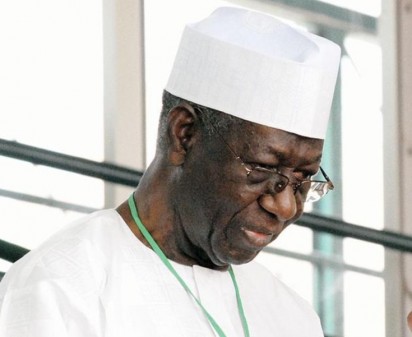 It is therefore appropriate for family members, friends and well wishers to expect the octogenarian to savour this graceful period and celebrate, having advanced well in age. But, he has decided to toe the path of asceticism and abnegation, principally because of the sad state of the nation that has witnessed so much losses, bloodshed and instability. Having appreciated the effort being made by government and influential Nigerians in restoring peade and stabilizing nation, he had called on well meaning Nigerians to join in prayer for God's intervention to restore peace in our nation.
This is commitment to nationhood even in his old age and out of politics. The fact that his life is an epitome of commitment to the political growth and stability in Nigeria is the reason he is inextricably concerned about the state of the nation. It understandably still weighs heavily on his mind.
Therefore, Irrespective of the feelings and concern that we may have for the old man, it is only fair and wise, to concede to him on his decision not to host a party to celebrate the attainment of a milestone of 85 years on earth on account of the sad state of the nation. Indeed, beyond political contemplations, he has acted in accordance with Biblical injunctions, in Titus chapter two verse two, which says: "Older men are to be sober-minded, dignified, self-controlled, sound in faith, in love, and in steadfastness."
He is surely grateful to God; he has expressed his profound gratitude to God and the people of Nigeria in his statement to the nation. The myth in a man is dictated not necessarily by what he has done or achieved, but also by the tasks he has set for himself to achieve while still alive. As Nigeria sails into the tempest of another slippery election period, there appears to be a new task before Pa Anenih, which, coincidentally can better be discharged with old age: the personal burden of providing wise counsel on political engagements and good governance.
Pa Anenih's political children and his friend in the task and commitment to building a better Nigeria, President Muhammadu Buhari, are in for a tough time now, during and after the 2019 general election. They must up their antes on how to be proactive and utilitarian in dousing the fire that is gradually turning the political market square into an arena of anarchy and battle of survival of the fittest. Without a doubt, things are falling apart and the nation is drifting, as political rivalries are further compounding an already worsening situation.
Tension is building: the international community is concerned; the nation is agitated, and the people have started living in palpable fear, but it must not be heard at home and abroad that the head of a baby strapped behind the mother's back became awkward, while the elders were in the market place. A stitch in time, they say, saves nine. It is time elders in the land stepped in before it is too late, and just only a few of them like Pa Anenih have taken a dispassionate and non-partisan approach in their intervention in the state of the nation.
He had since his 83rd birthday in 2016 dropped the partisan garb so that he could effectively and neutrally perform the much- desired role of an experienced political aficionado. Nigeria is not blessed with many of his kind. Indeed, the Anenih family must realise that their patriarch had since constructed a political stream in his backyard; and, so, the politicians can never stop coming to drink from his fountain of political wisdom.
Therefore, even out of politics, his house, like Mecca of sorts, should remain open to those who crave the wisdom of the political icon for as long as the Almighty God is willing to keep him. And interestingly, Nigerian politics is saturated by a-never-ending-game of intrigues and palaver. He can always deploy the benefit of his experience to assist those who are buffeted.
The former Chairman of the Board of Trustees of the Peoples Democratic Party (PDP) and former minister of works had undoubtedly prepared himself for the onerous task of attending to political issues and proffering solutions in his life and times when and where possible. As he continues to wear the badge or bear the sobriquet of Mr. Fix it for his pragmatic disposition to political problems, the fact remains that there is still much to be fixed in Nigeria with the wisdom of his old age and experience. Pa Anenih would always be remembered as a man who never ran away from "bumpy rides or paths strewn with political ridges and rough surfaces."
And to those who have continued to wonder why the old man will never give up attending to some issues affecting the country, despite his encumbered health, he said copiously in page 191 of his book, My Life and Politics: "On the Nigerian political scene, I have only tried to play my part in the true Shakespearian sense – 'All the world's a stage, And all the men and women merely players: They have their exists and their entrances; And one man in his time plays many parts.'" Indeed, no soothing immortal words can better capture his legendary commitment to Project Nigeria more than Shakespeare had done ahead of time.
Indeed, Pa Anenih has ostensibly elected to play the role of a statesman, having stepped out of active political stage. His trajectory is worthy of being trodden by those who cherish his politics. I will like to advise the current players to read his book. It should serve as a political compass for the current players and actors to learn from the mistakes of the past and how to navigate the tides. When nations and societies go through crises and challenges, they are able to weather the storm through sheer wisdom of the old and strength of the young.
Therefore, Pa Anenih may, as time goes on, consider convening, peridioc meetings of the young and emerging politicians to share with them some wise counsel.
Although, he is not celebrating his 85th anniversary with pomp and ceremony, may I, nevertheless, dedicate this song in quiet celebration and appreciation of the mercies of God for the life and times of the Iyasele of Esanland:
"Great is Thy faithfulness," O God my Father, There is no shadow of turning with Thee;
Thou changest not, Thy compassions, they fail not, As Thou hast been Thou forever wilt be.
"Great is Thy faithfulness!" "Great is Thy faithfulness!" Morning by morning new mercies I see;
All I have needed Thy hand hath provided— "Great is Thy faithfulness," Lord, unto me!
I say 85 hearty cheers, Sir. Igba odun, odun kan ni. (two hundred years equal one year).