2019: 42 senators not returning, 67 battle for return bid
ABUJA— AHEAD of the February 16, 2019 senatorial elections, strong indications have emerged that 42 of the 109 serving senators will not return to the chamber to resume for the 9th Senate, which would be inaugurated in June 2019.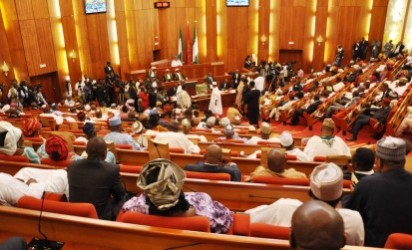 The 42 senators who will not return to the Senate form those who on their own, stepped down for others, while some were forcibly asked to step down, following political intrigues, backstabbing, maneuvering, among others, that played out, especially with some state governors who have rounded off their two terms and are eyeing the Senate.
42 senators not returning
Of the 42 serving senators already out, 19 voluntarily withdrew from the senatorial race at primary level or went for other elective positions, particularly governorship primaries, 23 others actually bidded for senatorial tickets on the platform of their political parties, but due to one issue or the other, lost out.
Restriction of movement of 50 Nigerians: PDP, CUPP, blast Buhari
The 19 serving senators who voluntarily bowed out of the race or went for governorship race or for presidential primary elections were Senators Ahmed Sani (APC Zamfara East), Bukar Abba Ibrahim (APC Yobe East), Abu Ibrahim (APC Katsina South), Abubakar Kyari (APC Borno North ) and Kaka Gabbai (APC Borno Central)
Others include Jonah Jang (PDP Plateau North), Jeremiah Useni (PDP Plateau South ), David Mark (PDP Benue South), Philip Gyunka (PDP Nasarawa North), Samuel Anyanwu (PDP Imo East), Abdulaziz Murtala Nyako (ADC Adamawa Central) and Usman Bayero Nafada (PDP Gombe North).
Also in this category are Kabiru Marafa (APC Zamfara Central), Shaaba Lafiagi (PDP Kwara North), Isiaka Adeleke (PDP Osun West), Sonny Ogborji (APC Ebonyi Central), John Enoh (APC Cross River Central), Gbolahan Dada (APC Ogun West) and Hope Uzodinma (APC Imo West).
Failed bid
From the 23 who bidded, in most of the states, some were confronted by their governors who were bent on ensuring that the senators did not return.
A case at hand is that of Niger State where the governor, Sani Bello, has put in place a political machinery to ensure that two senators from the state, Senators Aliyu Sabi (Niger North) and David Umaru (Niger East), do not return to the Senate.
Senate confirms 22 as NPC commissioners, rejects Kaduna nominee
This is because the governor wants them replaced with new senators.
In the category of 23 serving senators who contested for return ticket, but lost were Gbenga Ashafa (APC Lagos East), Lanre Tejuoso (APC Ogun Central), Fatima Raji Rasaki (APC Ekiti Central), Sola Adeyeye (APC Osun Central) and Babajide Omoworare (APC Osun East).
Others are Rilwan Akanbi (APC Oyo South), Gilbert Nnaji (PDP Enugu East), Emmanuel Paulker (PDP Bayelsa Central), Ben Murray Bruce (PDP Bayelsa West), Fosta Ogola (PDP Bayelsa South) and Ahmed Abubakar (APC Adamawa South).
Also in the category of failed bids are Rafiu Ibrahim (PDP Kwara South), Aliyu Sabi Abdullahi (APC Niger North), David Umoru (APC Niger East) and Joshua Dariye (APC Plateau Central) who is currently serving a jail term in Kuje Prison, Abuja.
Of the serving senators, 67 will be battling it out in various political parties to return to the Senate for next year's inauguration.
A survey shows that slighlty more than one third of the entire 109 serving senators (42 ), are already out of the race for election.
There are signs that at the end of the election, about one third (between 36 and 38) of the senators would come back as it had been the case since 2003.