Battle has just begun, Abe dares Amaechi
PORT HAR-COURT— Senator Magnus Abe has dared the Minister of Transportation, Mr Chibuike Amaechi, and other leaders of the All Progressives Congress, APC, in Rivers State, stating that the battle for who remains the candidate of the party for the 2019 governorship election in the state has just begun.
Abe, who also emerged the candidate of the party in a direct primary conducted in the state by the Peter Odike-led APC, also rejected the adoption of Mr Tonye Cole as the governorship candidate of the APC by the National Working Committee, NWC, of the party.
Abe spoke in Port Harcourt, Rivers State, weekend, following Cole's adoption based on the report of the Governorship Primaries Committee that supervised the indirect process in the state.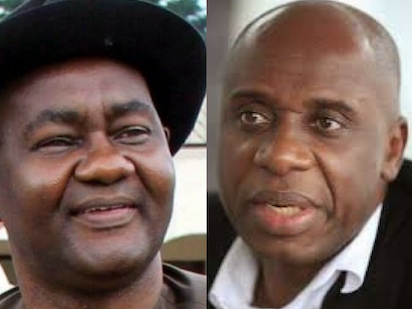 Abe said: "I am sure you are all aware of the current decision of the NWC of our party which accepted the report that returned Tonye Cole elected, based on the indirect primary conducted in the state.
"The battle has just begun. The party has set up an appeal. We will take advantage of the appeal panel and forward our case.
"The result of the indirect primary remains unacceptable and will remain unacceptable. The indirect primary was a charade set up by a few individuals to bring in their candidate. We will not accept that result.
"We are now faced with a fact that a man who just joined the party can claim to be a candidate of the party. This is against the wish of everybody who has worked for the party.
"I don't have anything against Tonye Cole because he is my friend. But we are politicians and we are fighting for justice. Without truth there can be no justice and without justice there can be no peace."
Abe further stated that he would not accept the result of the indirect primaries conducted in the state because he and other leaders of the party did not participate in the process.
"This is the situation we have talked and warned about, when the Minister of Transportation called a meeting of the party and started the event that has resulted to this."