Defection of PDP governors: Ayade dismisses rumour, Ugwuanyi keeps mum
Speculations about the possible defection of three serving governors belonging to the Peoples Democratic Party, PDP to the All Progressives Congress, APC were yesterday dismissed by officials and party stakeholders. Governor Ben Ayade, one of three governors quoted in the reports dismissed it saying that his relationship with President Muhammadu Buhari was framed on governance and not on politics. The other two governors, reported are Dave Umahi of Ebonyi State and Ifeanyi Ugwuanyi of Enugu State.
However, the case of Senator Godswill Akpabio, the Senate Minority leader was, however, murkier as sources alleged high level pressure on the former governor of Akwa Ibom State by government institutions notably anti-corruption agencies. His spokesman, Mr. Jackson Udom has remained unapproachable and several calls and a text message to him were rebuffed.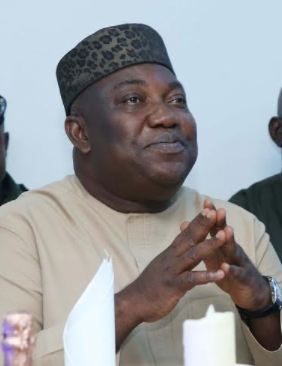 PDP officials who claimed to be in the know of the pressure on Senator Akpabio said yesterday that they were working to help him rebuff the pressure with the claim that going to the APC could irredeemably damage him. "We are aware of the pressures on him and they are trying to intimidate him with EFCC but we are trying to let him know that he stands to lose much more if he succumbs," a senior PDP official said.
He also dismissed claims of the imminent defection of the three governors. Another PDP office holder in the National Assembly told Saturday Vanguard that the APC was spinning the story as a way of trying to save face from the recent news of defections from the ruling party. Governor Ayade in his response through his spokesman, Mr. Christian Ita said:
"The governor is going nowhere. We have lived with this rumour from day one. The governor has said that there is a difference between governance and politics. Cross River is in the South-South but does not produce oil and we have so many projects that we have embarked on that require federal approval. How do you get the approval if you are not friendly with them? We are building a deep sea port and the super highway which both need federal approval. "It is about governance and it has nothing to do with politics and governance. He was even at the PDP NEC meeting yesterday.
"His relationship with President Buhari is based on governance not on politics." A mutual associate of Governor Ugwuanyi and Senator Ike Ekweremadu also dismissed claims of friction between the two men which